Recommended Software: (continued)
Though I've used several image viewers in the past, this year I switched to FastStone exclusively. I am amazed that a free program offers so many essential features like custom interface, cropping, resizing, batch renaming, as well as basic photo editing and retouching. For more sophisticated edits, FastStone even allows the user to launch his or her favorite photo editor from within the program. I'm so impressed with this program that I donated via Paypal to further its development.
Photo Editing:
The de facto standard for all photo editing is, of course, Adobe's Photoshop. Until recently no other program offered such a full range of editing capabilities. There is absolutely nothing that can't be done by someone skilled in Photoshop. But Photoshop has a hefty price tag and a steep learning curve (an entire industry has grown up around it writing support tutorials.)
If you don't want to pay the $10 monthly subscription fee ($120/year) , Serif's Affinity Photo Studio is a great alternative.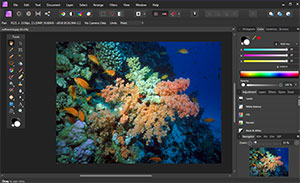 [ << previous page ] [ next page >> ]