Recommended Software:
These days a photographer's camera bag is not complete without software. Gone are the days of developing trays, red lights and smelly chemicals: the modern darkroom consists of keyboards, photo editing programs and inkjet printers.
Having the right software is just as important as having the right lens. For that reason, certain programs are essential. Today's photographer needs three types of software to complement the equipment bag: viewing, editing and presentation.
Viewing:
The best programs allow the photographer to bring up thumbnails for easy viewing and then delete them with a single mouse click: there's no point in spending time editing a bad image. FastStone, a free image viewer, does just that. And more.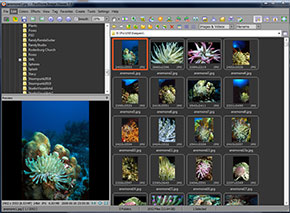 [ Next >> ]